Clare Age Expo 2016
peterkinvara1916
2019-08-30T11:13:22+01:00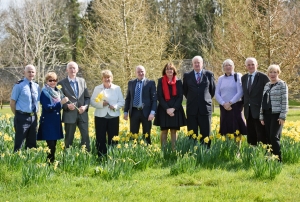 To view full programme see link 
Clare Age Expo 2016 Programme, April 15th & 16th ,Health & Wellness Centre
Mary O'Dowd
2019-08-30T11:13:22+01:00
March 30th 2016 : Launch of Clare Age Expo 2016@ Health & Wellness Centre, Carrigoran House
The organising committee pictured below at the launch of Clare Age Expo 2016,
which will takes place on Friday April 15th and Saturday April 16th in partnership with the Clare Age Friendly County Programme, at the award winning Health & Wellness Centre in Carrigoran, in New Market on Fergus.
The 2 day event with free admission This 2 day event will showcase health & social services in Co. Clare. Key note speaker Dr Eamon O 'Shea from NUIG on will address the conference on Friday April 15th and on Saturday, while events include a live exercise & relaxation programme. On both days, there will be a large exhibition of both voluntary & commercial services in Co Clare and routine health screening will be available. To celebrate there will be a tea dance on the Saturday afternoon.
Mary O Dowd, Health & Wellness Centre, Carrigoran House, Evelyn Henry, Older Persons Forum and Secretary, Older Peoples Council, Paul Ryan, Citizens Information Officer, Michael Neylon, co-ordinator Clare Age Friendly, Mary Moynihan, Activities Co-ordinator, Health & Wellness Centre Carrigoran House, Maria Molloy Chair, Implementation Team, Chair Age Friendly, Gerry Kelly, Chair, Alliance Board Clare Age Friendly, Claire Delaney, Community Services for Older People HSE Mid West and Fiacre Hensey, General Manager Clarecare
March 30th 2016 : Launch of Clare Age Expo 2016@ Health & Wellness Centre, Carrigoran House
peterkinvara1916
2019-08-30T11:13:22+01:00